PROJECT TYPE:

Website Redesign
TOOLS USED: Figma, Figjam, Miro, Wix
Authentic Thai in the heart of downtown Toronto




Open Daily for Dine-in & Takeout
EatBKK is an authentic Thai restaurant chain with locations all across Toronto. The goal of this project was to redesign the EatBKK website with a focus on the information architecture improvements such as making it easier browse the menu, placing a order takeout, and make a reservation while improving the overall experience design.
With a push on supporting local businesses and ordering out, individuals are constantly searching for new places to try. However, several factors may hinder a potential customers decision such as an unclear menu and an unintuitive reservation system leaving customers frustrated and potentially stopping them from going to the restaurant.
To get new customers choosing EatBKK as their next must try restaurant, we will redesign their website by adding important features such a photos of menu items and clear details regarding locations and hours. This redesign will aim to entice new customers and make it easy for returning customers to find the food they love.
Way too much white space which can lead to lack of interest
Order & Make reservation in navigation are both under the same tab
Make reservation and order online are 2 seperate call to actions
Information architecture is intuitive; minimistic navigation
Information architecture is not intuitive; confusing navigation
Attractive hero image of real pictures taken from the restaurant
Restaurant name written with eye catching typography mentioned in Hero image
Locations are just listed with no pictures and a very small font
Average time spent (4 Users)
Finding the Reservation page with Annex location:

30 seconds



Finding the Order Online page and add spring rolls to cart:

45 seconds



Find Contact us page:

10 seconds



Finding the Reservation page with Annex location:

30 second

s

Finding the Order Online page and add spring rolls to cart:

30 seconds



Find Contact us page:

5 seconds



Where do users search for new restaurants?
What do users look for on websites?
Research Interview Insights
Negatives when on the website
​User needs and key insight: Local individuals searching for a restaurant to eat at need to quickly see the restaurants menu, location, and the ability to reserve online because having a good and responsive online menu is the biggest determining factor when deciding on a place to try.
EatBKK is bettering their website by creating a more intuitive experience while simultaneously providing all of the important information users need to know (menu, price, location).
EatBKK will provide the necessary details to the user in an intuitive way that the user can quickly understand.
EatBKK is believable because we provide prices and photos on the menu, ensure the user is selecting the correct location to avoid error, and link them to reviews to quickly see what previous customers have said.
Reservations and Order Takeout
USABILITY TEST INSIGHTS- ORIGINAL WEBSITE
USABILITY TEST INSIGHTS- REDESIGN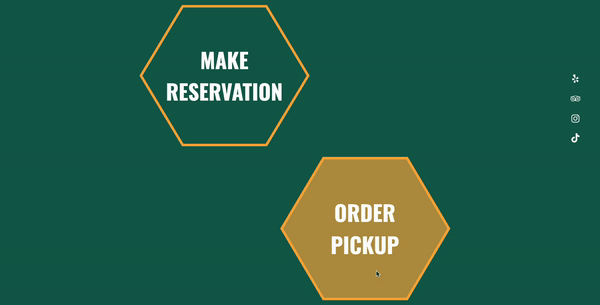 First time working with an actual stakeholder

Received in person feedback using surveys from actual EATBKK customers

Limitations within changing functionality with WIX
Limitations within the WIX site did not allow for us to make certain iterations

Conducting A/B testing to re-examine discarded and alternate ideas

Showing the stakeholder the final design, and making any further iterations
Be sure to checkout the process for EATBKK below!